Recipe for homemade sauerkraut juice
White cabbage juice is a product that can protect us from many disorders and diseases of the digestive tract. Regardless of whether you choose raw juice or sauerkraut juice, its effect always has a positive effect on your body. The most convenient method of extracting cabbage juice is to use a juice squeezer, but even if we have not yet equipped with this device, we can prepare this health drink using a mixer or blender.
Useful devices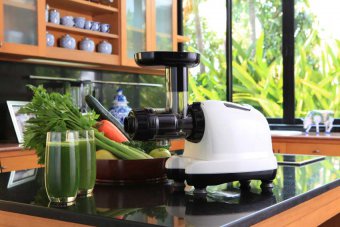 Slow-running juice squeezers are the best equipment we can use to prepare a cabbage drink. Searching for an extruder in traditional shops can take us a lot of time, the Internet gives us much more possibilities in this area.
Cabbage juice can also be obtained from more common household appliances such as a blender or mixer.
How to choose a sauerkraut for juice
You will need white cabbage to prepare the juice. The head should be hard and compact. Less compact heads may be the result of excessive nitrogen fertilisation. Such a vegetable is not too healthy in the raw state. It is different after silencing, then the destructive effect of nitrogen is neutralized.
To prepare a glass of juice, you will need a quarter of a kilo of cabbage. One medium sized cabbage weighs about 2 - 2.5 kg, which is enough to fill 8 glasses.
Preparation of juice
Divide the cabbage into 8 parts (one will weigh about a quarter of a kilo). Select one piece, remove the stalk and cut it into smaller pieces. The depth is very healthy, so after removal let's not throw it away, eat or treat children (for them it's a delicious treat). Put the chopped cabbage into a blender and add a glass of water. We can use tap water, filtered or mineral water, it should be cold or at room temperature.
The portion you throw into the blender is suitable for making raw juice. If the juice is to be pickled, it is better to prepare two parts of cabbage (half a kilo of cabbage and 2 glasses of water) immediately. In the latter case, you can add ½ - 1 teaspoon of rock salt or Himalayan salt to the cabbage. This is an important addition, without which the pickling process will not proceed properly, and salt will also improve the taste of juice.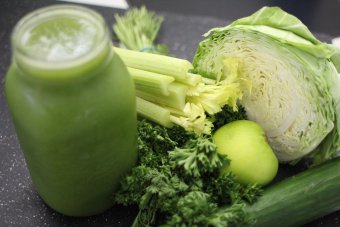 Mix the cabbage so long as to obtain cabbage particles (visible to the naked eye) - about 1.5 - 2 minutes at the highest revolutions. Take care not to mix for too long so that it does not have to be mixed. Strain the obtained mass through a sieve, which can be additionally lined with gauze. In this way we obtain raw juice, ready to drink. The juice is pronounced in taste. If you like milder juices, you can add an apple or carrots.
The same mass can also be put into a boiling, 1 litre jar, tightly close the dish and leave at room temperature for about 72 hours. After the contents have been silenced, drain the juice through a sieve. This will give you about 2 glasses of delicious and healthy juice. We are also sure that it has been prepared only with cabbage and as much salt as we consider appropriate.
How to store raw juice?
Fresh cabbage juice can be drunk immediately after cooking. We can also pour it into glass bottles and store it in the fridge. Under these conditions, it can survive for a long time without fermentation. According to gourmets, a cooled beverage is even better than the one consumed immediately after preparation.
Do not dispose of residues from juice preparation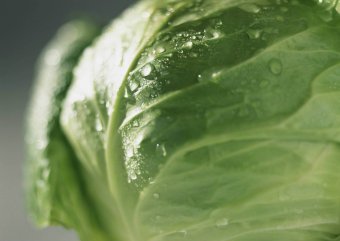 The pulp from pickled juice can be used to prepare salad with other vegetables (carrots, peppers, onions, etc.) or eaten as a separate dish. Sauerkraut cabbage can be added to sandwiches or stuffed into dumplings. Everything depends on our taste and imagination.
Which juice is better - raw or pickled?
Here, good news for the supporters of both products. Raw cabbage juice has a healing effect on the digestive tract. It is recommended in Irritable Bowel Syndrome, inflammatory bowel diverticulitis, ulcerative colitis, ulcers, reflux, indigestion, or problems with regular bowel emptying.
In addition, it is worth taking buffered vitamin C (several thousand milligrams). In order to enhance the positive effect of juice, let's give up eating highly processed foods, meals seasoned with refined sugar. Let us also restrict medicines to those that need to be taken.
Silage juice is a wealth of vitamins C, K2, B vitamins (B1, B2, B3, B6, B12), organic acids. Lactic acid, acetic acid and other acids resulting from fermentation stop the growth of pathogenic bacteria. It should not be forgotten that sauerkraut juice brings useful lactobacteria to our body.
People who drink coffee, drink alcohol, take medication or follow an unhealthy diet (rich in highly processed foods) should take particular care of the presence of friendly bacteria in the body. In a healthy organism there should be a lot of such bacteria (about 1.5 kg), so there is no fear that we "overdose" silage juice.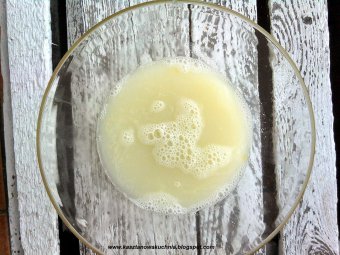 To increase the effectiveness of beneficial bacteria, let's remember to provide them with prebiotic food (containing fibre and fructooligosaccharides: fresh green vegetables, cereal coffee with chicory, fresh fruit and tomatoes, asparagus, artichokes, etc.).